AISA Colloquium Schedule
Upcoming Events - Overview
(list of previous invitees: LINK)
If not state otherwise, the talks will take place in U32, Room 101 (see belows sketch for access information).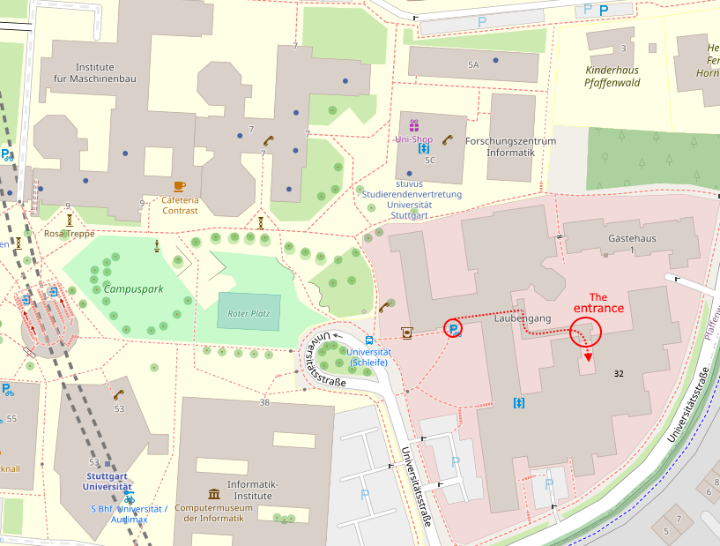 Prof. Fabian Suchanek, Télécom Paris University
Dr. Benjamin Paaßen, Humboldt-Unversität zu Berlin
AI in Education - History, Lessons Learned, and Recent Advances
Artificial intelligence techniques are part of the current trends in the field of educational technologies. The presentation will briefly outline the development of AI-based educational technologies and discuss various classification frameworks for the spectrum of currently existing methods. Afterwards, examples of some current projects and developments in the field of "AI in education" will be presented. The talk will conclude with a consideration of the opportunities, risks, and conditions for success for AI applications in education.
Access information
May 11, 2023, 17:30-18:30, UN32, R101.
Dr. Benjamin Paaßen will present joint work with Prof. Dr. Niels Pinkwart. Benjamin Paaßen received his doctoral degree in 2019 from Bielefeld University for his work on machine learning for education. After postdocs at The University of Sydney and the Humboldt-University of Berlin, Paaßen joined the Educational Technology Lab of the German Research Center for Artificial Intelligence (DFKI) in Berlin in 2021 and became deputy head of the lab. In 2023, Paaßen was also appointed as junior professor (with tenure track) for knowledge representation and machine learning at Bielefeld University, working on machine learning for education, the interface of human knowledge and machine learning, as well as interactive machine learning.
Prof. Ute Schmid, University of Bamberg
Towards Trustworthy Human-AI Partnerships with Explanatory, Interactive and Neuro-symbolic Approaches to Machine Learning
For many practical applications of machine learning, it is appropriate or even necessary to make use of human expertise to compensate a too small amount or low quality of data. Taking into account knowledge which is available in explicit form reduces the amount of data needed for learning. Furthermore, even if domain experts cannot formulate knowledge explicitly, they typically can recognize and correct erroneous decisions or actions. This type of implicit knowledge can be injected into the learning process to guide model adaptation. These insights have led to the so-called third wave of AI with a focus on explainability (XAI). In the talk, I will introduce research on explanatory and interactive machine learning. I will argue that explanations are a necessary ingredient for justified trust in AI-systems and prerequisite for interactive AI. I will present inductive programming as a powerful approach to learning interpretable models in relational domains and discuss first ideas about how to combine deep learning and inductive programming for concept learning in relations domains.
Access information
June 22, 2023, 17:30-18:30, UN32, R101.
About the speaker