AISA Colloquium Schedule
Upcoming Events - Overview
Nov 30, 2022, 17:30-18:30
Prof. Niels Pinkwart
cancelled
Feb 1, 2023, 17:30-18:30
Prof. Steffen Freitag
Karlsruhe Institute of Technology, KIT
UN32, R101
Apr 20, 2023,
17:30-18:30
Télécom Paris University
May 11, 2023,
17:30-18:30
Prof. Niels Pinkwart
HU Berlin
Jun 22, 2023,
17:30-18:30
Prof. Ute Schmid
University of Bamberg
(list of previous invitees: LINK)
If not state otherwise, the talks will take place in U32, Room 101 (see belows sketch for access information).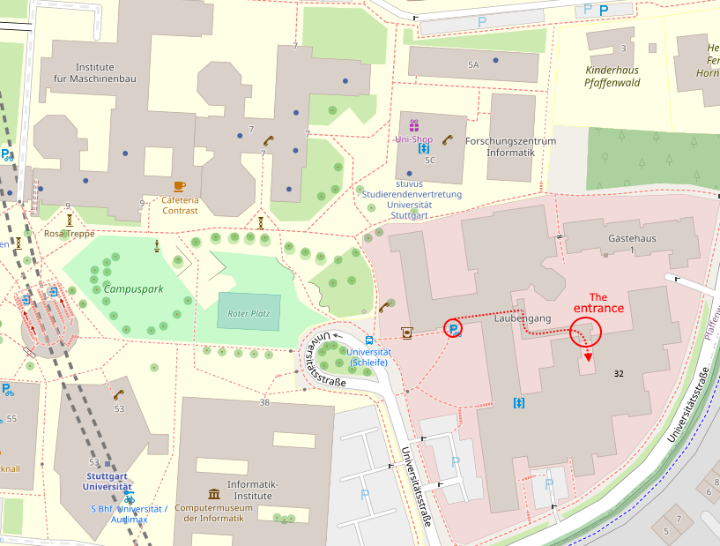 Prof. Mathias Niepert, University of Stuttgart
Machine learning at scale has led to impressive results ranging from text-based image generation, reasoning with natural language, and code synthesis to name just a few of the most recent applications. The machine learning approaches driving these methods are also successfully applied to a broad range of problems in engineering and the sciences. Due to their impressive results, these developments make some of us question the need for incorporating prior knowledge in form of symbolic (discrete) structures and algorithms. Is computing and data at scale all we need?
We will make an argument that incorporating discrete (symbolic) structures and algorithms in machine learning models is indeed advantageous in numerous application domains such as Biology, the Material Sciences, and Physics, where data is often more suitably represented with graphs and on irregular grids. Biomedical networks modeling genes, drugs, and their side effects, for example, can be represented as a multi-relational and heterogeneous graph. My group's research is concerned with the development of machine learning methods that combine discrete structures with continuous representations. We also address the problem of learning and leveraging structure from data where it is missing, combining discrete algorithms and probabilistic models with gradient-based learning. We will show that discrete structures and algorithms appear in numerous unexpected places such as ML-based PDE solvers and that modeling them explicitly is indeed beneficial. Especially machine learning models with the aim to exhibit some form of explanatory properties have to rely on symbolic representations. The talk will also cover some biomedical and SimTech-related applications and future research directions.
Access information
October 26, 2022, 17:30-18:30, Webex Webinar Link (opens in new window)
Prof. Steffen Freitag, KIT
Prof. Freitag will talk on "Artificial Neural Networks in Structural Mechanics".
Artificial neural networks are widely used in structural mechanics, e.g. as surrogate models to replace time-consuming finite element simulations for structural optimization, reliability assessment, sensitivity analysis, system and parameter identification, real-time simulations, etc. This lecture contains an overview on applications of artificial neural networks in structural mechanics. Feedforward and recurrent network architectures are discussed for regression and classification problems. Where the main focus of the presentation is on neural network based surrogate modelling of finite element simulations for uncertainty quantification and structural optimization, it is also shown, how artificial neural networks can be applied as material models within finite element simulations. Finally, a damage detection approach based on artificial neural networks is presented within a structural health monitoring concept.
Access information
February 1, 2023, 17:30-18:30 - Universitätsstr. 32, R101.
About the speaker
Prof. Fabian Suchanek, Télécom Paris University
Prof. Dr. Niels Pinkwart, Humboldt-Unversität zu Berlin
AI in Education - History, Lessons Learned, and Recent Advances
The talk has been cancelled due to our speaker falling sick.
Artificial intelligence techniques are part of the current trends in the field of educational technologies. The presentation will briefly outline the development of AI-based educational technologies and discuss various classification frameworks for the spectrum of currently existing methods. Afterwards, examples of some current projects and developments in the field of "AI in education" will be presented. The talk will conclude with a consideration of the opportunities, risks, and conditions for success for AI applications in education.
Access information
May 11, 2023, 17:30-18:30, TBA.
Prof. Ute Schmid, University of Bamberg